How Louisiana Ragin' Cajuns softball team plans to rebuild after exit from NCAA Tournament
When UL softball coach Gerry Glasco approached catcher Sophie Piskos about removing her redshirt in late March, 25 games already had passed.
Glasco also told Piskos he didn't know how much she'd play. The freshman from Paris, Tennessee, was all in anyway.
"When he pulled my redshirt," Piskos said, "I knew I was ready."
Glasco, too.
"She hits the ball with power," he said. "She brings great enthusiasm. … The pitching staff loves throwing to her."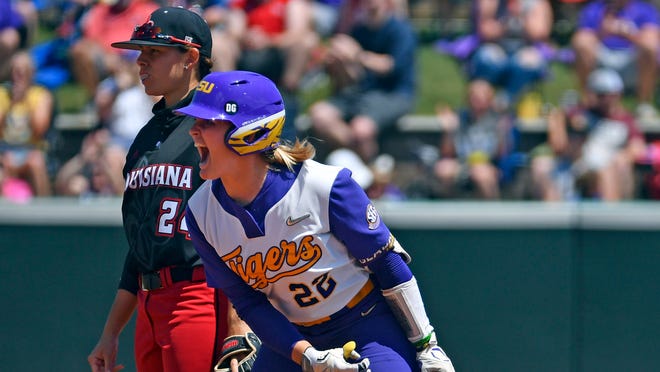 The move allowed senior catcher Julie Rawls, who had a hand injury, to move to the outfield.
Piskos wound up as UL's primary catcher for the rest of a 47-12 season that ended with Sunday's 8-5 NCAA Tournament loss to LSU in the Baton Rouge Regional championship game.
'Win three, and I love you':UL softball coach Gerry Glasco on the loss of his mother
A special game:A father, a daughter and a UL softball game 'a million years' in the making
The defeat ended the college careers of several seniors who inspired Piskos, including Rawls, two-time Sun Belt Conference Pitcher of the Year Summer Ellyson and shortstop Alissa Dalton, the 2019 Sun Belt Player of the Year.
Their departures leave Piskos high among future potential centerpieces for a program that spent the season nationally ranked but, for a fourth straight season, couldn't escape a Regional.
LSU losses hurt
Sun Belt Conference champion UL had a couple regular-season wins over ranked teams, beating Oklahoma State and Texas.
But the Cajuns also had six regular-season losses to ranked opponents, including LSU and Alabama twice each, and they went 1-2 against the Tigers in the Regional.
NCAA regional:Cajuns stay alive in NCAA Baton Rouge softball regional with win over McNeese
The struggles against LSU ultimately cost a team loaded with major-conference transfers, including former Georgia teammates Ciara Bryan and Justice Milz.
Pitcher Kandra Lamb got the Cajuns their lone win over LSU, but Ali Kilponen used her changeup to beat UL in the championship game.
Now Rawls, Ellyson, Dalton, Bryan, Milz and infielders Kaitlyn Alderink and Jade Gortarez are among those finished.
Bryan leaves behind a team-high .488 batting average and team-leading 39 RBIs, Dalton a career .258 average and Ellyson a career 99-24 record and 1.66 ERA.
Pitcher Kandra Lamb was 'outstanding'  
Glasco is likely to reload with transfers again for 2022.
He should return standout center fielder Raina O'Neal and first baseman Taylor Roman, both of whom who missed most of the season with injuries.
He must decide if freshman Kyleigh Sand really can, as previously billed, replace Dalton at shortstop.
He'll need a new No. 2 pitcher, too.
But Glasco should get back Lamb (17-5, 2.02 ERA), a good head start for what he'll need in the circle, and others including Arizona transfer Vanessa Foreman and South Carolina transfer Karly Heath.
"Kandra Lamb was outstanding," Glasco said. "Really good development from her this year."
Perfect pitcher:Lamb pitches six perfect innings in UL's 11-inning Regional win over GW
Kandra Lamb:UL beats LSU behind Lamb's pitching, forcing Baton Rouge Regional title game
Catcher Sophie Piskos gained teammates' trust
Seasoned as well is Piskos, who relished playing with the seniors.
She's been watching some of them since committing to UL as a sophomore at Baylor School in Chattanooga, where she won two state championships.
"I just wanted to be out on the field with them … because I've looked up to them for so many years," said Piskos, who quickly gained teammates' trust.  
She hit .333 over 28 games.
"I love Sophie to death. She's one of the hardest workers, and she has been since the fall," said Rawls, who became a mentor. "So I was ready for her to step up in that role, and she was too.
"She takes in everything you and she takes it with good intent, and she's literally ready for anything that comes at her."
For that, Piskos thanks the veterans who watched over her.
"The confidence that they gave just to be where I'm at now," she said, "it's honestly a Godsend."