Maricopa County GOP executive committee rejects 2020 election results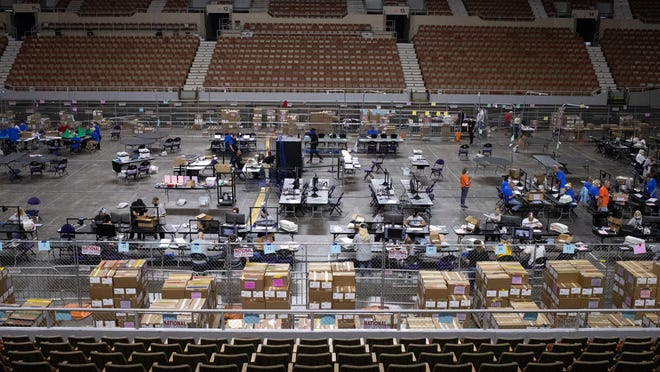 Mary Jo Pitzl
Arizona Republic
Maricopa County's Republican Party's executive committee, following in the footsteps of the Texas GOP, passed a resolution that rejects the nationwide 2020 presidential election results.
The resolution, adopted June 21 by the county party's executive committee, cites alleged irregularities by "various secretaries of state" as well as the "2000 Mules" documentary to support its claim that Joe Biden did not win the presidency.
It also claims that five states were swung to Biden's column due to "substantial election fraud in key metropolitan areas" and references the findings of the Arizona Senate's ballot review of Maricopa County's election to support its assertion that Biden didn't win.
Brian Ference, who authored the resolution, said in an email that the 2000 Mules documentary "irrefutably proves huge outcome changing levels of fraud in the 2020 election." The movie, which has been widely debunked, examined the role of ballot drop boxes in the 2020 election, including those in Maricopa County. 
It presented cellphone location data of individuals ("mules") who repeatedly passed by drop boxes, suggesting they were depositing numerous ballots that were fraudulently cast.
Ference said the resolution's intent is to signal support for legislation, such as House Bill 2289, to correct what he called the fraud and weaknesses of the 2020 election.
That bill proposed a number of election changes that included the use of specially formatted ballots, an end to widespread mail-in voting and a requirement that all ballots be counted by hand.
It was not brought before the full Senate for a vote and therefore did not pass in the legislative session that adjourned last week.
Ference said the resolution will be circulated to all precinct committee members. On July 7, the full county executive board, consisting of all 30 district chairpersons, will vote on whether to adopt it. The hope is to get Arizona's 14 other GOP county parties to endorse the resolution, he added.
The Texas Republican Party in mid-June adopted a resolution that similarly rejected the 2020 election outcome. Ference said he based his proposal on that language.
Reach the reporter at maryjo.pitzl@arizonarepublic.com and follow her on Twitter @maryjpitzl.
Support local journalism. Subscribe to azcentral.com today.