Meet Congresswoman Julia Letlow's staff from Louisiana to Washington D.C.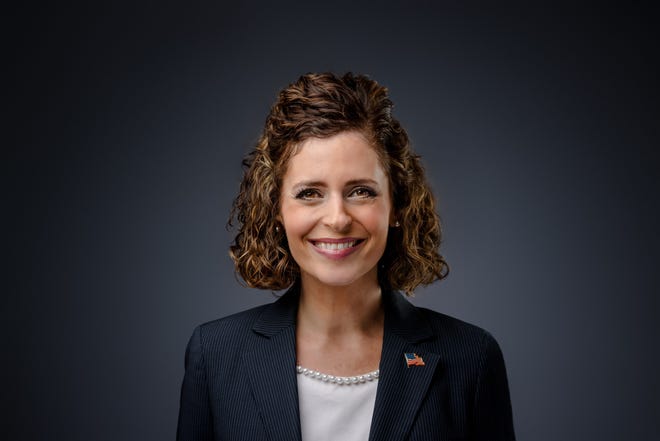 Congresswoman Julia Letlow has hired many familiar faces in Louisiana politics both at home and in Washington to fill out her 5th Congressional District staff.
Letlow kept the bulk of the staff her late husband Congressman-elect Luke Letlow formed in December as he prepared to take office.
Luke Letlow died from COVID-related complications before he could take office. Julia Letlow won the seat in a landslide March special election.
"Luke had put together an incredible staff," Letlow said. "Their level of experience of working in Congress, as well as for the people of the 5th Congressional District, has allowed me to quickly get up to speed on the issues facing Congress and how they might impact our district."
MORE:Julia Letlow sworn in as Louisiana's first GOP congresswoman; carries torch for late husband Luke
Among her key hires are Andrew Bautch, former executive director of the Louisiana Republican Party, Ted Verrill, who had served as chief of staff for former Congressman Ralph Abraham, and Trey Williams, who had been communications director for former Gov. Bobby Jindal.
She was sworn into Congress last week, becoming the first Republican woman from Louisiana to serve.
Letlow told USA Today Network she took the oath using a Bible that was given to Luke by his grandparents Richard and Mary Taylor and that she wore her wedding ring on a necklace during the ceremony.
"It was a special moment," Letlow said.
MORE:Louisiana Congresswoman-elect Julia Letlow on her work, tragedy, healing, children
She was assigned spots on the House Agriculture and House Education and Labor committees and attended her first House Agriculture Committee meeting this week. "Agriculture is the backbone of my district," she told fellow member of the committee.
Following are the members of Letlow's staff from Alexandria to Monroe to Washington, D.C.
► Verrill will serve as chief of staff, the same position he held for six years with Abraham. He has also served as legislative director and chief counsel for Arkansas Congressman Rick Crawford and worked in the offices of former Pennsylvania U.S. Senator Arlen Specter and former Arkansas U.S. Senator Dale Bumpers. He was recognized by the USA Rice Federation as the 2017 Congressional Staffer of the Year.
► Bautsch will serve as Letlow's Louisiana chief of staff. He will act as senior adviser to the congresswoman as well as oversee operations and manage district staff back home. Bautsch left his job leading the Louisiana GOP last summer to run the campaigns of first Luke and then Julia Letlow.
► Lindsay Linhares will serve as legislative director, leading Letlow's policy team and managing the appropriations, education, workforce and judiciary portfolios. Linhares previously served as senior policy advisor for Mississippi U.S. Senator Cindy Hyde-Smith and legislative assistant for former Mississippi Sen. Thad Cochran.
► Williams, who most recently served as director of legislative and governmental relations for the Louisiana Department of Health, will serve as Letlow's communications director. Williams, a Louisiana Tech University and LSU graduate, previously worked for Jindal, former Gov. Mike Foster and former Congressman Jim McCrery.
► Heinz Kaiser will serve as senior legislative assistant for Letlow, handling issues on armed services, foreign policy, Second Amendment rights, healthcare, homeland security, veteran's affairs and Social Security. He also worked for Abraham.
► Emma Herrock, a University of Louisiana at Monroe graduate, will serve as district director. She previously previously worked for Ralph Abraham as his scheduler and as executive coordinator of athletics at ULM.
► Caroline Courville, a Pineville native and ULM graduate, will serve as Letlow's scheduler.
► Lansing Brakenridge, a Ferriday native and LSU graduate, will serve as staff assistant, the same role she held when working for Abraham
► Ramona Riser Martin, a Columbia native and Tech graduate, will serve as district representative for northeastern Louisiana. Martin previously worked for Abraham as a field representative and handled constituent services.
► LiLia Boies will serve as office manager for the Monroe district office, the same job she held with Abraham.
► Donna Howe will serve as the office manager and caseworker for the Alexandria district office. She previously worked in the offices of former Congressman Ralph Abraham and former Congressman Robert "Bob" Livingston.
Greg Hilburn covers state politics for the USA TODAY Network of Louisiana. Follow him on Twitter @GregHilburn1.