Ascension Commerce Center growing in Geismar
Greg Fischer Editor-in-chief
gfischer@weeklycitizen.com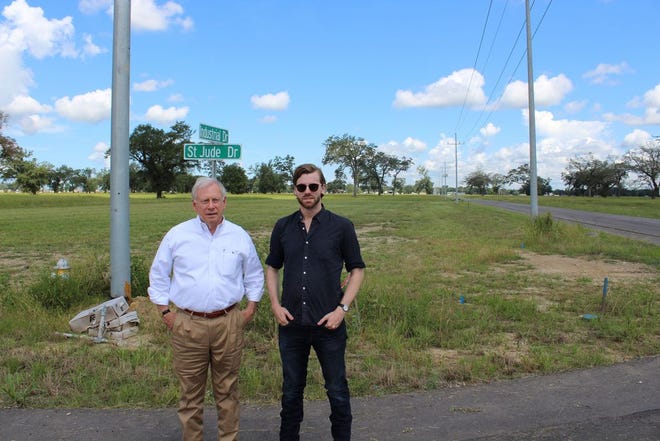 As trade and commerce grows and Ascension Parish expands, land will become key to growth. The L.J.G. Land Company from New Roads, La. can help.
L.J. Grezaffi currently holds 325 acres for sale in a rapidly moving industrial park situated between Highway 30 and Highway 73. The park has been coined "Ascension Commerce Center," and it looks as though ultimately it will serve as just that. But he did not come up with the name.
"There's a fellow named Tommy Kurtz who used to work for Ascension Economic Development," Grezaffi said. "He was a head man, and he and I used to work together. He said I want you to call it 'Ascension Commerce Center.'"
But the biggest thing is that Grezaffi is currently working on a new road being built that will connect the two highways, hopefully easing the traffic flow at peak hours in the area. He is working on the nearly finished road and paying out-of-pocket well over $1 million for construction of the road. 
Grazaffi took the Weekly Citizen on a ride down the new road called Industrial Drive on July 13. One of the cross sections is called St. Jude Drive, named after L.J.'s wife. Industrial Drive will serve as the main artery that runs through the park. Tyler Grezaffi, one of L.J.'s sons, reached out to the newspaper a couple weeks back to raise awareness that new land is available.
The land is located 1.8 miles from Interstate 10 and the Gonzales city limits.
"We're zoned heavy-industrial," Grezaffi said. "A lot of our users don't require heavy industrial, but if we do have someone that needs it, then we can meet their needs, you see."
The original plot of land was purchased by L.J.G. in 1997. A total of 534 acres were purchased. An additional 161 adjoining acres were bought in 2002. in two decades, Grezaffi has watched nearly 80 businesses locate to the park and 1,100 jobs created. 
He said it is "more or less" what he had envisioned for the land. That being said, property taxes for the area have grown from just $696.42 in '97 to a whopping $1.3 million in 2016 alone. That is projected to grow by $200,000 in 2017. Over the course of the past 20 years L.J.G. Land Co. has generated $12 million in property and inventory taxes.
"We're selling our small lots between $3.50 per square foot and $3.75 per square foot, lots between one and four acres," Grezaffi said. "Larger lots between five to ten acres we're selling at $3 a square foot."
The developer said other than the new park, the company also does residential development in Pointe Coupee Parish. He is currently sold out of all residential in Ascension.
"I'm a farmer at heart," Grezaffi said. "My oldest son Luke is our farmer. We own about 5,000 acres of sugar cane and rice land in St. Landry and Pointe Coupee Parish. Tyler is my real-estate man."
All-in-all L.J. said he's got three sons all working hard, or three "knuckleheads," as he puts it. To contact L.J.G. Land Co. call 225-638-9015.